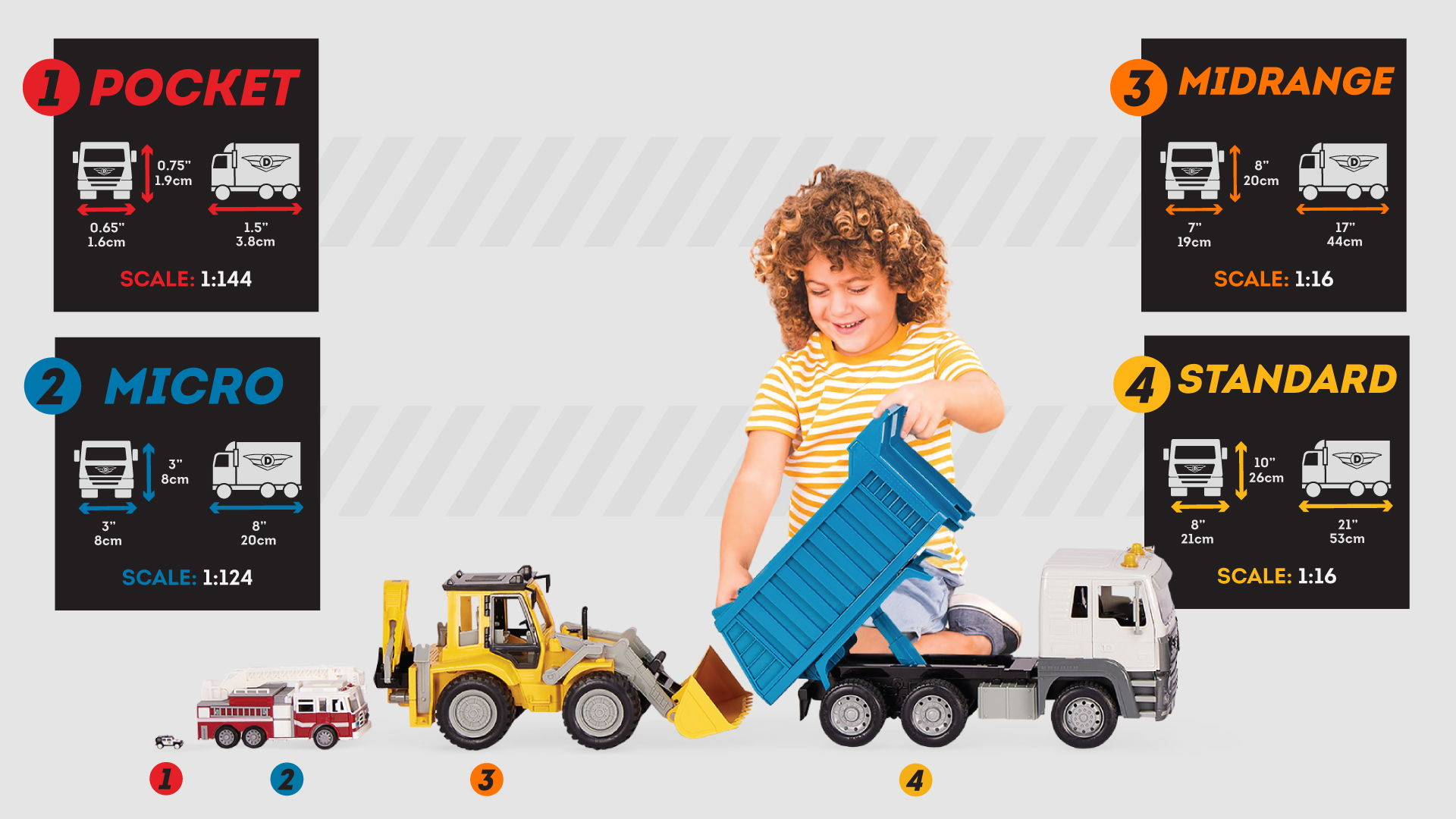 At DRIVEN, we have a huge range of detailed and durable toy vehicles for all your fast-paced adventures. With 4 distinct series, there's something for everyone, but it can be a lot to keep track of! That's why we've created this comprehensive size guide. We'll introduce you to our 4 series – Pocket, Micro, Midsize, and Standard – and let you know exactly how big they are and what they offer so that you can discover the perfect ride.
First up is our largest size category, the Standard Series. At approximately 21 inches long, our Standard vehicles have room for so many details and special features. You'll find lights, sounds, movable parts, realistic interiors, and more.
Dimensions: Length: 21" (53cm) x Width 8" (21cm) x Height 10" (27 cm)
Why you'll love it: Kids love how big these toys are! With more to explore, these vehicles allow kids to get into the action and discover how their real-life counterparts work.
Featured Toy: Wondering where to start? Check out our Standard Orange Recycling Truck. With realistic lights and sounds, movable parts, and all the accessories you need to keep the town clean, this vehicle works just like the real thing.
Next, check out our Midrange Series. If you're looking for something a bit smaller without compromising on realistic features and fantastic details, these toys are for you. With an approximate length of 17 inches, you'll wonder how we fit so many lifelike components and movable parts into our Midrange trucks.
Dimensions: Length: 17" (44cm) x Width 7" (19cm) x Height 8" (20cm)
Why you'll love it: These rugged vehicles have all the wow factor of a much bigger toy while saving valuable playroom space.
Featured Toy: To see the Midrange Series in action, take a look at the Midrange Backhoe Loader. Clear your path using the front shovel and then use the rear excavator arm to start digging!
If you're looking for tons of fun in a small package, the Micro Series is for you. At 8 inches in length, these trusty vehicles are the perfect size for little hands to explore. Like our Standard and Midrange Series, these toys are packed with features like lights, sounds, movable parts, and true-to-life details.
Dimensions: Length: 8" (20cm) x Width 3" (8cm) x Height 3" (8cm)
Why you'll love it: With a vast range of vehicles and a selection of playsets to choose from, kids can create their own micro world with these tough toys.
Featured Toy: To see what the Micro Series offers, take a closer look at the Micro Rescue Fleet. This terrific trio includes a police cruiser, fire truck, and helicopter so you can tackle any pretend emergency.
Lastly, delve into our Pocket Series for tiny vehicles that deliver gigantic entertainment. These vehicles are only 1 inch long, making them the perfect toys to take on the go or collect! The series includes various vehicle types and playsets so that you can play your way.
Dimensions: Length: 1" (4cm) x Width 2" (5cm) x Height 1" (4cm)
Why you'll love it: A toy that can fit in your pocket is always extra special, and these highly detailed vehicles are so cool you'll want to collect them all!
Featured Toy: A great place to start your collection is with the Pocket Fleet 1. This 20-piece set includes an airplane, a camper van, a cement mixer and so much more!
And there you have it! Now that you know all about our series and sizes, head over to the DRIVEN website to find the perfect toy for your next adventure. Whether you're looking for a large toy that offers an immersive experience or tiny collectibles that fit in the palm of your hand, we've got something for you.
Join the crew! Subscribe to our newsletter to stay up to date with all the latest announcements and updates.